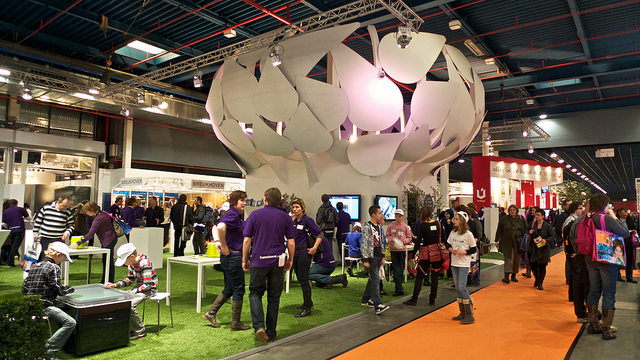 Image by: Frans Schouwenburg
With exhibitions, as with any other kind of advertising, the most important thing is to get the right message to the right people. Here are some simple tips to make business exhibitions work for you, whether you are selling cupcakes or exercise programs.
Go for the Giveaway
For many, "free" is the most interesting word in the English language – and cool freebies can leave people with a positive reminder of your business. But, as Ken Krogue at Forbes explains, it can be a mistake to give expensive goodies to every passer-by. "Only people with Need buy from you. Interest is the counterfeit of Need," he says. "Interest without Need wastes more time of your salespeople than anything else." Giveaways can include:
Bags, pens, cups, and electronic goods like USB sticks that are both useful to the customer and are likely to be kept around for a long time.
Food and drinks. Even if you're not in the catering trade, spending long days at trade shows is a hungry – and thirsty – business, and the right snacks can be a major attention-getter.
Bigger bait. Things like sweatshirts and headphones are great giveaways that will definitely capture attention at exhibition stands but you might want to save these for targeted clients or people who are willing to sit through a long presentation.
Bond with Your Audience
This will often take a lot more than a pretty face or friendly manner at your stand. Marketing masterminds say it is important to make the most of any opportunity to engage with customers outside the limits of your stand, taking part in panel discussions, and even organizing events of your own outside exhibition hours.
Don't Make Quality an Afterthought
When you're trying to make your mark amid dozens of stands, selling similar products and services, and skimping on quality can be a big mistake. This includes quality of staff, stand design, freebies, and location within the exhibition hall. It doesn't always have to be the most expensive. Trade shows visitors often walk away talking about not the flashiest exhibit they've seen, but the most engaging and most thoughtful.
Know Your Customers from Your Time Wasters
While making your stand a welcoming place is a key part of success at any exhibition, sometimes the problem can be attracting too much attention. If you are getting interest from every single person walking down the aisle when only a few of them are likely to be genuine sales possibilities, experts recommend working on your screening methods, even setting up a "stand within a stand" for the best prospects.
Build Contacts, Not Just Sales
According to a trade show study, company buyers make up just 2% of the attendance at the average trade show with much of the rest made up of executives higher up the chain as well as technical staff like engineers. Dealing with these people at your stand can help broaden your contacts and build your business – as setting aside plenty of time to check out other stands.
Keep It Simple
To be persuasive, you need to be clear especially when you may only have a few seconds to get your message across to passing clients. Set out your goal and strategy – whether it be launching a new product or attracting new clients to classic ones – far in advance and remember why you are there and why visitors are there. Experts say that if you can get your story down to five or six clearly displayed words, you have gone a long way towards capturing people's attention. If you can get it down to two words, all the better.